Student Action Ideas for Kind Schools  (This page is also in the process of being edited and will be complete mid-October, 2015. Thank you for your patience)
Establish a Choose Kindness Team (CKT)  in your school whose focus is creating a kinder and more respectful school climate (bullying prevention)
-Ask a teacher or parent to help you get started on this.
Themes related to anti-bullying/bullying prevention that you can focus on:
-Being kind, respectful and compassionate.
-Making sure kids are included (no one is left out).
-Being a good friend.
-Speaking up when you see /hear or hear about bullying (be an ally, an up-stander instead of a bystander).
Projects that your Choose Kindness Team/club can initiate:
a. When possible include parents and the community.
b. Use ideas from the Choose Kindness Everyday campaign found here-  http://www.jeremiahshopeforkindness.org/choose-kindness/                                                                                                                         
c. Adopt the Choose Kindness Everyday Pledge and recite every morning-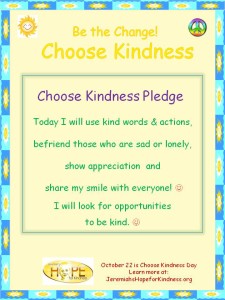 Make the pledge into a banner and invite students and staff to sign
d. Have discussions about:
– what it means to be a good friend.
– ways to help everyone feel cared about, included and safe such as:
e. urvey students about their feelings of feeling cared about and safe
f. provide places to go to in school that are always safe for all students
g. provide safe ways for students to speak out
h. have diverse library books and resources that are inclusive of all youth from different backgrounds and families
i. offer informational speakers, forums, events and discussions on a variety of topics around bullying, discrimination, harassment, & how to spread kindness and respect to all
-provide information and resources in the form of brochures, handouts, newsletters or bulletin boards
-Do fun activities involving being a good friend and including others.
Discuss and plan activities to celebrate and honor all talents, abilities and uniqueness.
Poster contests with an anti-bullying theme and display posters around school and community.
Door decorating contests.
Make a welcome video to give to new students when they first come to school.
Decorate t-shirts with anti-bullying/ be a friend theme and decide to wear them once a week or month.
Throughout the school year designate certain weeks with various themes surrounding bullying prevention/ being kind/ being a good friend/including others.
Sponsor art/music/ writing/drama projects in which the focus is on bullying prevention themes.
Write plays about bullying prevention themes to perform for younger students.
-Start a mentor or buddy program where older students mentor or befriend younger students.
https://www.ncjrs.gov/html/youthbulletin/9907-4/contents.html
Write articles/tips on bullying prevention themes for the school and/or local newspaper.
Create a flag as a symbol for kindness and respect in your school.
Discuss ways to show appreciation to school employees including custodians, bus drivers, kitchen workers, secretaries and teaching staff.
Talk about ways to show kindness.
Implement a bus /bus stop buddy program –possibly pairing older students with younger students to watch over them at the bus stop and on the bus.
Start a buddy bus stop plan on your playground – providing benches where students who are being bullied or have no one to play with can sit. Teachers can monitor and address bullying of these students. Encourage or have volunteer students invite those sitting on bench to play with them. https://www.edulink.networcs.net/sites/teachlearn/esd/Resources/benches.pdf  and  http://www.telegraph.co.uk/news/uknews/1321449/Buddy-Stop-helps-cut-playground-bullying.html
Designate a place where kids can go during recess/breaks/lunchtime who have no one to be or sit with, such as a friendship table in the lunchroom.
Explore and implement service learning projects in your school.
http://www.uen.org/k12student/service_ideas.shtml – service learning ideas
http://www.servicelearning.org
http://www.learnandserve.gov/for_individuals/students/index.asp -great resource for students who want to start a service learning program/project in their school
Events to raise awareness and educate: Consider holding some of these more than once a year.  Repetition is key to integrating new social norms of kindness and respect into the school culture.
http://www.bullyingawarenessweek.org – click on each day on the left side of the page for lots of ideas to do anytime
http://www.actionwork.com/antibullyingweek – half way down the page there are lots of ideas
Bullying Awareness Month:
http://www.pacer.org/bullying/nbpm  – has lots of ideas
Websites to help start a gay/straight alliance in your school:
http://www.glsen.org/cgi-bin/iowa/all/library/record/2226.html?state=tools&type=student
http://www.gsanetwork.org/resources/building-your-gsa
http://www.aclu.org/lgbt-rights_hiv-aids/tips-starting-gsa
http://www.wsd1.org/grantpark/clubs/gsa/resources/How%20to%20Start%20a%20GSA.pdf
Websites for starting a diversity club:
http://www.cherrycreekdiversity.org/2012/resources.php?target=Activity+Ideas+for+Diversity+Clubs
http://www.dosomething.org/clubs/starter-kit
Student Action Toolkits:
http://stompoutbullying.org/student_participation_toolkit.php
 Website pages specifically with ideas for student action:
http://www.angriesout.com/kids6.htm
http://www.nonamecallingweek.org/binary-data/NoNameCalling_ATTACHMENTS/file/37-1.pdf  -pages of ideas that can be used any time during the year, not just No Name Calling Week
http://www.adl.org/Prejudice/closethebook.pdf  -101 Ways to Combat Prejudice
Be creative, have fun and involve everyone!

For further information or assistance please contact Ann Gettis at jeremiahshopefk@gmail.comand/or look around our website, www.jeremiahshopeforkindness.org and our facebook page,www.facebook.com/jeremiahshopeforkindness