Action Ideas for Adults Who Want to Support Youth and Create Kind Schools
(This page is in the process of being edited. Thank you for your patience!)
(Ideas for Students below)
"If there is anything that we wish to change in the child, we should first examine it and see whether it is not something that could better be changed in ourselves."   ~Carl Jung
The following suggestions could be adjusted for use at home, schools, places of worship, work and/or any club or organization for youth and adults.
Always model kindness and compassion towards all beings. 
***Keep in mind as we work to build kinder and more respectful school environments
1.  It is all about building positive, kind, respectful and compassionate relationships among the youth, between adults and youth and among the adults (including parents and educators).
2. All behavior is purposeful. To change a behavior it is most helpful to identify the root cause.
Root causes of negative behavior can be due to:
Trauma experienced at some point  (More Information)
Lack of skills for more adaptive behaviors (using behaviors they have learned as a way to cope, adapt or that have been modeled for them at home, in the media or elsewhere)
Nutritional or physical issues
Modeling calm, caring, respectful, kind and compassionate words and behavior in all interactions is perhaps the most important and effective way to build relationships and teach pro-social, healthy behavior.
***Organize!  Invite others to join you!!  Meet regularly with other concerned adults and organizations in the community such faith based, youth, business, recreation and mental health organizations and professionals to discuss ways to address and prevent bullying in the community as well as ways to support schools and their bullying prevention efforts
 Find out what is already being done to prevent bullying. Are there any groups, projects or campaigns already in place that you can help with? If not, offer, maybe along with other parents, to organize or help organize a bullying prevention group/committee to decide on and oversee implementation of a bullying prevention plan or program. Ann Gettis director of Jeremiah's Hope for Kindness  is happy to offer suggestions and assist with this (my e-mail address is at the bottom of page). Below are links to best practices for bullying prevention. They are excellent guidelines for schools in order to be effective in their bullying prevention efforts.http://www.education.com/reference/article/Ref_Best_Practices/ and  http://www.bullyingprevention.org/repository/Best%20Practices%20PDFs  /BP-Prevention.Intervention.pdf
Offer to support students/student groups who want to stop bullying in their schools by helping with some of the ideas or projects suggested in the "Student Action Ideas for Kind Schools" found below.
Mentor students, especially those who are involved in bullying.  Learn more about mentoring or starting a mentoring program in your school or community here.
Volunteer to help at bus stops, recess or in the lunchroom, making an effort to watch for bullying and befriending kids who appear to be alone.  There is more info on what can be done in these areas below in the student action ideas.
Volunteer to play/teach kids some cooperative, community building games and activities that teach respect and compassion.
Offer to read stories with themes of anti-bullying, kindness, compassion, respect and that celebrate diversity. If possible, do this on a regular basis to have a bigger impact.
http://www.chicagonow.com/portrait-of-an-adoption/2012/04/anti-bullying-reading-recommendations-for-children-and-teens -list of books for children and teens
http://www.newton.k12.ma.us/libraries/documents/bullyingk_5.pdf  – very comprehensive selection of books divided into various aspects of bullying with descriptions of stories for grades k-5  http://www.waylandlibrary.org/children/booklists/open_circle.htm  -list of books by subject
http://www.bullyingpreventioninstitute.org/LinkClick.aspx?fileticket=VWXJwRQjWUE%3d&tabid=39  -comprehensive list of books with additional info compiled for the Olweus Bullying Prevention Program
7.  ·Animal lovers- offer to bring in a pet to show students. Animals can help to increase empathy.  http://www.webvet.com/main/2008/06/20/animals-teach-children-empathy-and-compassion.
8.  Show your appreciation of all school staff. School climate is enhanced when all staff feels respected and appreciated. Help students show their appreciation for teachers too.  http://www.ascd.org/publications/educational-leadership/sept11/vol69/num01/Respect%E2%80%94Where-Do-We-Start%C2%A2.aspx
Spread the word and include these Action Ideas to community leaders, businesses, churches, civic organizations and other community organizations. Bullying affects everyone in the community. Bullying prevention is crime prevention, substance abuse prevention, family violence prevention, truancy prevention and suicide prevention. A kind and caring school environment positively influences the community and vice versa. Leave copies of these Action Ideas around the community.
http://www.edutopia.org/blog/school-community-collaboration-brendan-okeefe -Five Steps to Better School/Community Collaboration
Bullying Prevention Programs and Helpful Websites

Coming fall 2015, Choosing Kindness: A guide for fostering a positive school climate  by Ann Gettis and Jeremiah's Hope for Kindness   Please stay tuned!  
The Olweus Bullying Prevention Program is one program that uses Best Practices and has been very effective in schools when implemented with fidelity and consistency.
http://www.olweus.org/public/safe_schools.page
http://www.welcomingschools.org -free program and resources
http://www.tolerance.org/ -Teaching Tolerance
http://www.pacer.org/bullying/
For further information or assistance please contact Ann Gettis at jeremiahshopefk@gmail.com.com
Student Action Ideas for Building Kind and Respectful Schools
1.  Establish a "Choose Kindness" group/team in your school whose focus is creating a kinder and more respectful school climate (bullying prevention)
-Ask a teacher or parent to help you get started on this.
-Determine when, often and where to meet.
2.  Themes related to anti-bullying/bullying prevention that you can focus on:
-Being kind, respectful and compassionate.
-Making sure kids are included (no one is left out).
-Being a good friend.
-Speaking up when you see /hear or hear about bullying (be an ally, an up-stander instead of a
bystander).
3, Projects that your Choose Kindness team/club can initiate:
When possible include parents and the community.
Use ideas from Choose Kindness Everyday campaign found here.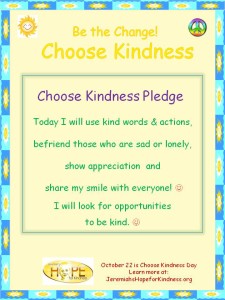 Create a pledge based on one of the above themes or use the Choose Kindness Everyday Pledge:
–     Some schools have created a short pledge/promise that the students recite every morning and/or create a longer pledge that students (and teachers) sign and display.
Have discussion about :
– what it means to be a good friend.
– ways to help everyone feel cared about, included and safe such as:
-survey students about their feelings of feeling cared about and safe
-provide places to go to in school that are always safe for all students
-provide safe ways for students to speak out
-have diverse library books and resources that are inclusive of all youth from different backgrounds and families
-offer informational speakers, forums, events and discussions on a variety of topics around bullying, discrimination, harassment and how to spread kindness and respect to all
-provide information and resources in the form of brochures, handouts, newsletters, or bulletin boards
-Do fun activities involving being a good friend, being kind and respectful and including others.
Discuss and plan activities to celebrate and honor all talents,  abilities and uniqueness.
Poster contests with an anti-bullying theme and display posters around school and community.
Door decorating contests.
Make a welcome video to give to new students when they first come to school.
Decorate t-shirts with anti-bullying/ be a friend theme and decide to wear them once a week or month.
Throughout the school year designate certain weeks with various themes surrounding bullying prevention/ being kind/ being a good friend/including others.
Sponsor art/music/ writing/drama projects in which the focus is on bullying prevention themes.
Write plays about bullying prevention themes to perform for younger students.
-Example ideas for plays:
http://www.pacer.org/bullying/resources/activities/stick-puppet.asp
Start a mentor or buddy program where older students mentor or befriend younger students.  Find more information here.
Youth in Action:  Make a friend- Be a peer mentor
Write articles/tips on bullying prevention themes for the school and/or local newspaper.
Create a flag as a symbol for kindness and respect in your school.
Discuss ways to show appreciation to school employees including custodians, bus drivers, kitchen workers, secretaries and teaching staff.
Talk about ways to show kindness.
http://www.randomactsofkindness.org/Kindness-Ideas
http://www.helpothers.org/ideas.php?op=theme#youth
http://www.randomactsofkindness.org/Educators/School-Activity-Ideas/
Explore and implement service learning  projects in your school.
http://www.uen.org/k12student/service_ideas.shtml – service learning ideas
http://www.servicelearning.org
http://www.learnandserve.gov/for_individuals/students/index.asp -great resource for students who want to start a service learning program/project in their school
http://www.servicelearning.org/youthsite
http://www.nylc.org –National Youth Leadership Council
Hold a community event in your community, church, girl/boy scouts, or other clubs and organizations.
-Sample agenda for community event:
http://www.pacer.org/bullying/pdf/Bullying-Community-Event.pdf
Events to raise awareness and educate: Consider holding some of these more than once a year.  Repetition is key to integrating new social norms of kindness and respect into the school culture.
http://www.bullyingawarenessweek.org   – click on each day on the left side of the page for lots of ideas to do anytime
http://www.actionwork.com/antibullyingweek – half way down the page there are lots of ideas
Bullying Awareness Month:
http://www.pacer.org/bullying/nbpm  – has lots of ideas
Websites with resources for starting a gay/straight alliance in your school:
http://www.glsen.org/cgi-bin/iowa/all/library/record/2226.html?state=tools&type=student
http://www.gsanetwork.org/resources/building-your-gsa
http://www.aclu.org/lgbt-rights_hiv-aids/tips-starting-gsa
http://www.wsd1.org/grantpark/clubs/gsa/resources/How%20to%20Start%20a%20GSA.pdf
Websites with resources for starting a diversity club:
http://www.racebridgesforschools.com/wp/wp-content/uploads/2010/07/seeking_harmony.pdf – Starting and Sustaining a Diversity Club
Student Action Toolkits:
http://stompoutbullying.org/student_participation_toolkit.php
Website pages specifically with ideas for student action:
http://www.angriesout.com/kids6.htm
http://www.nonamecallingweek.org/binary-data/NoNameCalling_ATTACHMENTS/file/37-1.pdf  -pages of ideas that can be used any time during the year, not just No Name Calling Week
http://www.adl.org/Prejudice/closethebook.pdf  -101 Ways to Combat Prejudice
Be creative and have fun!!

For further information or assistance please contact Ann Gettis at jeremiahshopefk@gmail.comand/or look around our website, www.jeremiahshopeforkindness.org and our facebook page,www.facebook.com/jeremiahshopeforkindness