18 + Ideas for homes, schools, work places, faith-based, youth, adult, civic & government organizations & communities
1.  Form a "Choose Kindness" team or club that meets regularly to plan & oversee activities. This can be incorporated into an existing club or group.
Invite representatives from all areas of your school, business, organization or community to join.
Create a plan to foster kindness and respect in your organization.
2.   Declare October 22 "Choose Kindness Day" & the surrounding week as "Choose Kindness Week".  Have a celebration including the following (&/or spread these out through the year).
Essay, poem, skits, songs, music writing & performing activities with themes around kindness
Invite youth and adult members of the community to share how giving and receiving kindness has impacted their lives.
Speakers and discussions around kindness themes, looking at ways to foster kindness in homes, schools and communities and creating welcoming environments.
Information booths or forums for parents, students, educators, health workers, police, business and religious leaders on how to enhance kindness in their respective environments
Invite nonprofits and other community organizations to have tables/ booths sharing what they do to spread kindness &respect in the community.
3.  Offer a "Choose Kindness Everyday" poster activity: Invite youth and adults from all areas of the community to participate drawing about kindness, reflecting on the following questions. Display posters around the community.
What kindness means to me
How I spread kindness to others, myself, animals and the earth
Kindness shown to me
Why kindness is important.
4.  Adopt this pledge or motto declaring the community's commitment to Choosing Kindness or create your own.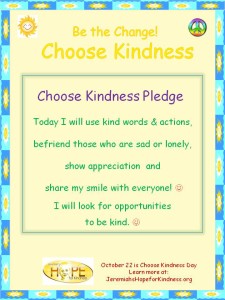 5.  Learn about what schools and other organizations are doing to spread kindness and how your community can support their kindness-spreading activities.
6.  Provide public places such as a wall or bulletin board for people to write notes describing kindness they observed or were recipients of or pictures, poems and quotes related to kindness. . ("I saw kindness" cards found below)
7.  Provide a wall, perhaps in the library or another space, for posting and sharing apology notes from and to members of the community. After reflecting on harm done to others in the community, going through the act of writing and sharing a note of apology can be very powerful for all.
8.  Create a public kindness or peace garden or space with flowers, benches, mementos and other signs of kindness, peace & friendship.
9.  Offer regularly scheduled gatherings & discussions with a focus on articles, books or speakers with an issue of concern or interest. Discuss the role kindness & compassion play in this issue and how can we enhance them?          Questions or topics for discussions may be:
What do kindness, compassion and empathy look and feel like?
Why might someone behave in a kind or an unkind way?
Who has shown great courage in being kind in your life, in your community or in the world recently and throughout history?
What are attitudes, practices, beliefs, policies and social norms that may support or encourage disrespect and hurtful behaviors and do not support kindness and compassion?  Additionally, discuss alternatives that do foster kindness, compassion and empathy. How do the above contribute to environments that are welcoming or not?
Examine gender roles and how we socialize boys vs. girls. How does this affect individuals and our communities? Does it contribute to violence in our homes, schools and communities?
Are there certain groups (i.e. athletes, cheerleaders, wealthy, educated etc.) that receive more respect and are treated differently than others?  Are there certain people (i.e. LGBTQ, kids from lower SES, from other cultures, of certain races or religions, etc) that are not treated with respect or kindness and may not feel welcomed?
Discuss stereotypes and their role in how we think about and treat others.
How do mindfulness, gratitude, happiness and social emotional learning fit into creating kind & respectful homes, schools & communities?
What are restorative practices & trauma informed practices?  How do they fit into fostering kind and respectful environments? How can these practices be implemented in our organization & community? (info and links to info about restorative practices on our website)
Examine and discuss the media and the messages portrayed in TV shows, movies, music & games. What role do the media play in how we treat others?  How can we become more educated and critical consumers of the media and the messages that we are exposed to?
What are your community's strengths?  How can these strengths be used to enhance a kind and welcoming community?
What we do as individuals & an organization and/or community to enhance kindness and respect in our community so that every child and adult feels cared about, respected and welcomed?
10.  Provide support groups for those who have experienced bullying.  Consider using the circle process with these groups.
11.  Invite other schools, youth and adult group, clubs, faith-based, civic and community organizations and businesses to create their own plan for fostering kind, respectful and welcoming environments.
12.  Provide community service learning and mentoring programs in your schools, businesses, organizations and community.
13.  Take time for everyone to plan ways they will spread kindness every day at home, school, work and in the community.
Take 1-2 minutes at the beginning and middle of everyday to consider how we can be kind and respectful.
Take time at the end of the day to reflect on kindness witnessed, kindness received and kindness given
14.  Offer opportunities and activities to show and express gratitude to others regularly such as a wall in the library, schools and business for people to post notes of gratitude to others in the community especially to those who may not receive recognition or gratitude often.
15.  Document and display publicly your community's efforts to foster kindness.
16.  SMILE!  

  A smile is a simple yet powerful way to spread kindness. Share your smile often and with everyone!

17. Reflect regularly on your efforts
18. Celebrate Kindness and celebrate your efforts regularly!!  

*Continue to recognize, reflect on, celebrate, plan and provide activities and discussion around kindness themes through the year, every year.

  Be creative and have fun!!   Thank you!  

  10-15-15
"I saw kindness" cards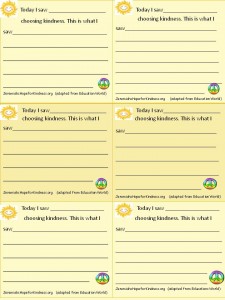 Fostering Kindness, Empathy, Gratitude and Resilience
"If there is anything that we wish to change in the child, we should first examine it and see whether it is not something that could better be changed in ourselves."   ~Carl Jung
23 Suggestions for parents, grandparents, caregivers and all who care about youth



Discuss and create a family or class mission statement. Talk about the mission statement regularly and how to work towards it.  Examine how behavior might be influenced by this mission. What is important to your family? What values do you share?
Talk about the importance of getting enough sleep, good nutrition and plenty of exercise for healthy bodies and minds. Make a plan to build good habits.
Talk about how to befriend those who are lonely or sad.  Practice looking for those who look lonely or sad when entering a room and befriend them.
Discuss, practice and acknowledge noticing when others and we show empathy, kindness or gratitude.
When watching television, movies or reading stories discuss how people are feeling, why and how people might do things differently to achieve varying outcomes.
Role -play difficult situations that your child may be concerned about, practicing various ways of responding to each situation.
Create a gratitude ritual at bedtime and throughout the day, talking together what you are grateful for. Begin a family or individual gratitude journal.
Talk about the different ways people in your community help either through their jobs or by volunteering. It reminds kids that most people care and do good things that help everyone. Often we don't notice their effort. Together thank these people verbally or with notes for their helpful work.
Do volunteer work in the community as a family or class.
Learn about other cultures and religions, etc.  Talk about how we can be respectful of and celebrate our differences.
Create a "peace" corner in your home or classroom.  Include soft chairs, calming items to hold and look at. Have reading and listening material that is conducive to peaceful feelings.
Share stories!!  Tell stories of when you were growing up. Talk about your day. Research shows that youth who know their family histories tend to be more resilient. It enhances their feeling of belonging and togetherness.
Practice and talk about mindfulness. Practice being mindful by concentrating on your breath for a minute or two regularly throughout the day.
Talk about feelings throughout the day. Help kids identify and express their feelings. Be specific as possible in describing emotions. Play "Feeling Charades" where you guess what the person is feeling by their facial expressions and body language.
Practice listening skills and expressing emotions by taking turns expressing your emotions and the other person
Mirroring – paraphrasing what is said back  to them
 Validation – such as "I can see that…" or "I can understand that…"
Empathy – express understanding such as "That makes sense to me" or "I understand that you feel…"
16. Together practice counting to 10 when angry or upset before responding.
17.  Remember that behavior is communication. Focus on what your child is communicating.  What needs they are trying to meet.
18. Teach and practice positive and kind self-talk and self compassion.
19.  Provide opportunities for success to enhance feelings of competency.
20.  With your neighbors, faith or other community, make a list of every young person who lives, attends services, classes or youth group in your particular neighborhood or community.  Ensure that every young person     has a connection and relationship to a caring adult in your neighborhood or community.
21.  Talk about issues and possible solutions to various problems at home, in school, place of worship or community. Practice viewing problems as challenges that can be addressed with creative thinking and cooperation.  Make a game of brainstorming for solutions.
22.  Celebrate Kindness often!!  

23.  Smile!!  

The Short List of Resilience Factors for Children and Youth
—  Effective parents & caregivers
—  Connections to other competent & caring adults
—  Problem-solving skills
—  Self-regulation skills
—  Positive beliefs about the self
—  Spirituality, faith & religious affiliations
—  Socioeconomic advantages
—  Pro-social, competent peers & friends
—  Effective teachers & schools
—  Safe & effective communities  (Masten, 2001)
Please share your stories, pictures and comments with us at jeremiahshopefk@gmail.com or on our facebook page.     (10-15-15)