We would like to announce October 22 as "Choose Kindness Day".  We dedicate this day that Jeremiah ended his life here on earth stating he didn't want "to live in a world where people were so cruel" as a day of renewing our dedication to spreading kindness. We invite you to join us.  This is a day we will not only rededicate ourselves to this mission but also create a plan on how we will change our thoughts, words and behavior so that we are living each day from a place of kindness and compassion towards all beings. Change takes time and is usually a series of small steps. What small step can we commit to doing that will add kindness to our world? Change requires being intentional. We often need a plan to carry through our good intentions or they get lost among everything else in our day. We invite you to also rededicate and make plans to continue to foster kind and respectful homes, schools and communities.
Three things in human life are important. The first is to be kind. The second is to be kind. And the third is to be kind. ~Henry James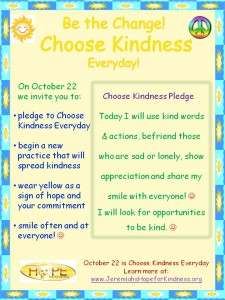 We have created a Choose Kindness Toolkit   and Resources for Choose Kindness Day and Week  with  information, suggestions and a pledge for families, schools, workplaces, youth, faith-based, civic, community organizations and communities as a whole.

  Please feel free to print as needed and share widely.

  Below you will find short videos that are wonderful reminders to Choose Kindness.  We continue to add more resources so keep checking back!

Thank you!!

☮ ❤☺ 
We also invite you to share this event with friends, schools, youth and adult organizations, faith based organizations and civic organizations.  Thank you so much for your kindness! ❤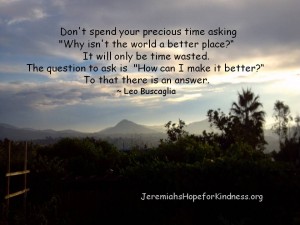 Jump to:
Suggestions:
Every morning commit to choosing kindness

Repeat to yourself throughout the day "choose kindness"

Smile at everyone you see

Include those who are left out

Ask people how they are and mean it

Listen more

Look for ways you can help those around you

Watch for those being kind to others and express your gratitude

Always say "please" and "thank you"

Give people the benefit of the doubt

When angry take 3 slow, deep breaths

Ask how you can help

Talk, write, sing, act and play about kindness

Think kindness

Speak kindness

Do kindness

Express gratitude often


Be kind and gentle with yourself and all beings

Do these every way and everyday!  
Why Kindness? Blog Post
What's the big deal about a smile?

The Science of  Smiling: A guide to the most powerful human's gesture
Articles on kindness:
"Are you Brave Enough for Radical Kindness"?
Kindness Breeds More Kindness, Study Shows
A Daily Dose of Kindness: Empowering Students to do Good
Youth and adults can find ideas for getting involved and spreading kindness in your schools and communities here-           

http://www.jeremiahshopeforkindness.org/parents-caring-adults/action-ideas
http://www.randomactsofkindness.org/kindness-ideas
http://www.helpothers.org/ideas.php?op=theme#youth
http://www.helpothers.org/ideas.php
1000's of Ideas for Teachers and Childcare Professionals
http://www.lifehack.org/articles/lifestyle/29-ways-to-carry-out-random-acts-of-kindness-every-day.html
http://www.thedailymind.com/how-to/11-ways-to-make-someone-smile-and-brighten-their-whole-day/
ttp://www.bukisa.chom/articles/247610_top-70-random-acts-of-kindness-ideas
http://earlswynn.hubpages.com/hub/101-Easy-Ways-You-Can-Make-The-World-A-Better-Place
http://www.randomactsofkindness.org/Educators/School-Activity-Ideas/
http://www.rippleeffects.com.au/RippleForAdults.html
http://www.spreadkindness.org/tools/ideas
http://www.karmacooler.com/2009/02/100-ideas-for-kindness
http://pinterest.com/sjserbinski/random-acts-of-kindness-ideas
http://www.kindspring.org/ideas
Crafts for Kindness  (More coming soon)

Making a chain of kindness craft for young children
Kindness Lesson Plans/Activities  (More coming soon)

Random Acts of Kindness Lesson Plans
Multimedia art activities to explore the theme of Kindness
Please keep checking back as I will be adding more links to resources and ideas in the days ahead.

Be kind to others, it will pay off – inspirational video

Random Acts of Kindness
Stand by me- playing for change video.  We are all connected and need each other.
Imagine all the people living life in peace
Powerful video to remind us everyone has troubles and being kind can make all the difference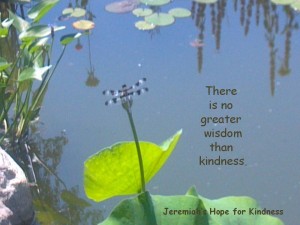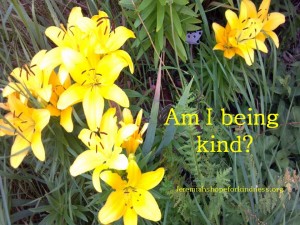 Contact us at: jeremiahshopefk@gmail.com 

Please like us on Facebook at: www.facebook.com/jeremiahshopeforkindness 

Please click on the Paypal button below to help us continue our work.