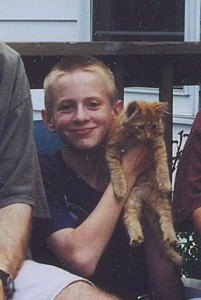 Jeremiah's Hope for Kindness was created in honor of our precious son, Jeremiah who took his life on October 22, 2006 at the age of 21. In a letter to us he wrote that he no longer wanted to live in a "world where people are so cruel." In another letter he wrote about being bullied. He wrote that the bullying he endured left him "with no self esteem and feeling like a loser." We are dedicated to changing the world Jeremiah described as so cruel by creating kind and caring schools and communities so that every child feels valued and cared about.
It is our mission to support efforts and be a resource for fostering kind and respectful homes, schools and communities.
Our story~
Jeremiah was the second of our four children. He was a very sensitive and shy little boy. He loved animals and always had pets.  He loved playing outside with his pet chickens, rabbits, sheep, dogs and cats. Despite his shyness, Jeremiah was excited to start school, I think mostly because he looked up to his older brother and wanted to go to school like him. I don't remember exactly when, but sometime in early elementary he began to say that he didn't like school.  At the time I thought it was just that he'd rather stay home and play. Eventually, my kids did tell me that among other things they were all teased for wearing homemade, second hand or clothes that were not name brand.  They were teased for not knowing some of the popular television shows since I restricted their television watching. Regrettably, I didn't think that it was anything too serious.
Jeremiah rarely directly told me about other bullying that was going on. I would usually find out from overhearing him and his siblings talking. When I would find out, Jeremiah begged me not to call the school, so most of the time I didn't. I hate to admit this now, but I really thought that there was nothing I could do about it. I trusted him when he begged me to not call the school. And actually, in his letter in which he wrote about the bullying, he stated that when a teacher found out it just got worse.
The bullying became worse in middle school and again he didn't tell me but I would over hear him and his siblings.  He continued to beg me not to call the school, so I rarely did. The only option, that I felt we had at that time, was to have Jeremiah change schools. When Jeremiah was starting the 10th grade he decided to transfer to a school in another town along with his siblings. We had hoped, of course, that this would be a good move and that Jeremiah would make new friends. But the bullying continued there. I believe now that Jeremiah's self esteem was so low by that time that he was a very easy target. He was also so desperate for friends which kids could sense and took advantage of. At this school, Jeremiah did not beg me to not call the teachers, so I did talk to them. I was told that Jeremiah needed to learn to stand up for himself. Jeremiah quit school his senior year and earned his GED.
Three years later, the deep pain and suffering from feeling like a loser and having no self esteem became unbearable for Jeremiah. He bought a gun and behind our pole barn ended his life here on earth.  There are simply no words to describe the horror of that day and those following…
While I have attempted several times to write more details about Jeremiah's life and what happened on October 22, 2006, it is still too painful. I have found no words that adequately describe what life has been like since that day. The guilt and regret often threaten to destroy me. At times, I still feel in shock. It is incomprehensible to me. I cannot wrap my head around it. I think that it may be impossible to grasp the magnitude and depth of grief and sorrow of something like this. Maybe it is just not humanly possible, I don't know…
Jeremiah's despair over the cruelty in this world led to our decision to name our efforts Jeremiah's Hope for Kindness. The words of Martin Luther King Jr. suggesting that violence begets violence and that only love can stop hate have long been an inspiration for me. If we increase kindness and compassion we will decrease cruelty and bullying. Bullying is a very complicated phenomenon with many causes and factors and I do not want to blame or demonize. Bullying behavior does not happen in a vacuum. Our youth are often simply mirroring what they see and hear at home, in the community, in the media, sometimes even from religious and political leaders.
If we are serious about bullying prevention for kids today, as well as for future generations, we must address the root causes of bullying.  It is essential to intervene in all bullying that is happening now, but we will never break the cycle if we don't attend to factors and conditions in the home, school and community that contribute to bullying behavior in the first place.
It is everyone's responsibility to stop and prevent bullying. Families, schools and communities must work together. Extensive research has been and continues to be conducted that has led to best practices for bullying prevention. Included in the best practices is a school wide approach focusing on changing social norms and the school climate. Creating a school climate or bullying prevention committee to oversee efforts is also suggested.  It is essential that school administration and staff, as well as parents and community members be educated in bullying intervention and prevention.  Every effort must be made to ensure that students feel safe to report bullying and feel certain it will be stopped if they do. We will never stop bullying if students are afraid for whatever reason, to report it. For greatest effectiveness, youth must receive the same messages about bullying at home, in the community and at school.  To ensure lasting change, these efforts must be ongoing.
Schools that have implemented best practices with fidelity and widespread commitment do experience a decrease in bullying over time. I am hopeful that as we continue to learn more about effective bullying prevention and creating safe and caring schools, there will not only be less bullying but also higher academic achievement, less substance abuse, a decrease in other rule breaking behavior and an increased sense of community for all. Ultimately, it is our responsibility to ensure that every child feels valued and cared about unconditionally in their homes, schools and communities.
Bullying is violence. It is abuse, peer abuse. We will not end the cycle of violence until we stop discrimination, bigotry, hate and oppression of all kinds and to all beings. This calls for more than doing acts of kindness. This calls for nothing less than a transformation. It calls for radical kindness, compassion, forgiveness and gratitude. We can no longer afford to continue to live and behave as we have been on this earth. We can no longer afford a we/they, us/them  attitude.  We have abused each other, our children, animals and our Mother Earth. Now is the time for change -before it is too late. Now is the time for a radical kindness and compassion that leaves no room for hate or "enemies".  Won't you join us as we work towards this new way of life?
I am truly honored to have been Jeremiah's mom. He was a wonderful son, so kind and caring. I believe that someday I will see him again and be able to give him that hug that I so desperately want to give him, tell him again how much I love him and how proud I am of him. ♥ I do believe, like he wrote in his letter to us that he will be "waiting on the other side" for us.
Our lives changed forever that cold, October day in 2006 when we were thrust into an unbearable, grief-filled existence. We miss Jeremiah's sweet smile and his laugh. We miss everything about him. There is a hole in our lives that can never be filled. But we have hope. We have hope that this pain is not in vain. We have hope that we can make a difference, that we can prevent or stop others from suffering as Jeremiah did. We have hope that people will begin to examine their lives, their attitudes, their thoughts, their words and behavior and decide to choose kindness. ♥
If you take anything away from our story, I hope that it is to remember that what we say and do matters. And what matters is that we accept and love each other unconditionally, that we tell each other and show each other this love as often as we can and strive to live every day of our lives in kindness and compassion towards family, friends, neighbors, all fellow humans and living beings and our Mother Earth.   Please join us!! ♥ ~Ann